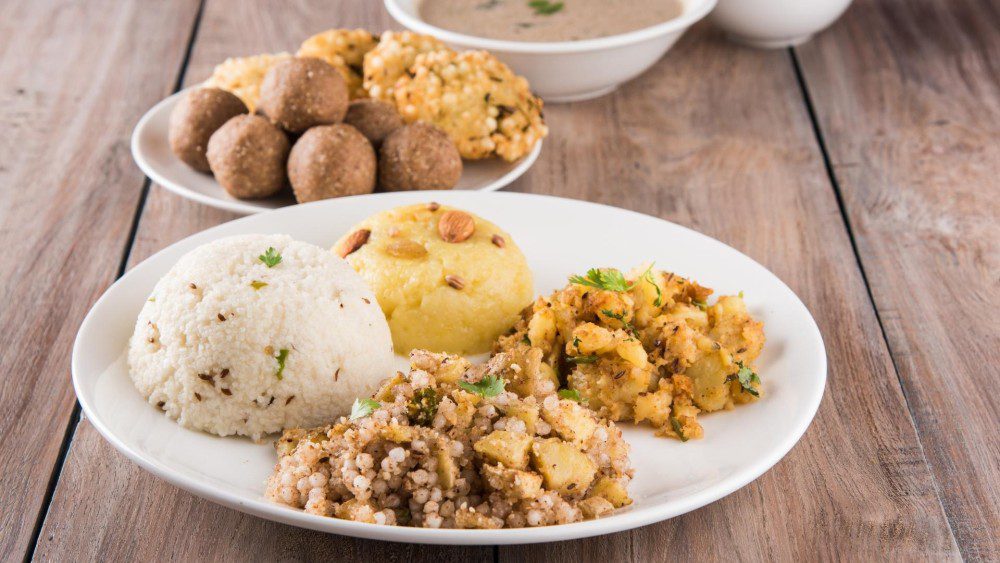 My 10 healthy Navratri recipes
Here comes Navratri, a very significant festival of the Hindus, that time of the year again when idol of Goddess Durga is decorated with bangles, flowers, Kumkum and jewellery, celebrated twice a year with great emotion, intensity, warmth and zeal across the country.
At my home too, this is one of the most celebrated festivals. But when it comes to fasting, what we reach out to is fried food and easily available packaged snacks in the market, which are high in sodium and sugar. 
This Navratri, Let's swap the unhealthy, unwholesome meals which are a poor health choice with nutritive, wholesome and balanced meals.
My 10 healthy, easy to prepare meal options which will not only keep you full and give you enough carbohydrates, protein and fats but will also help with weight loss.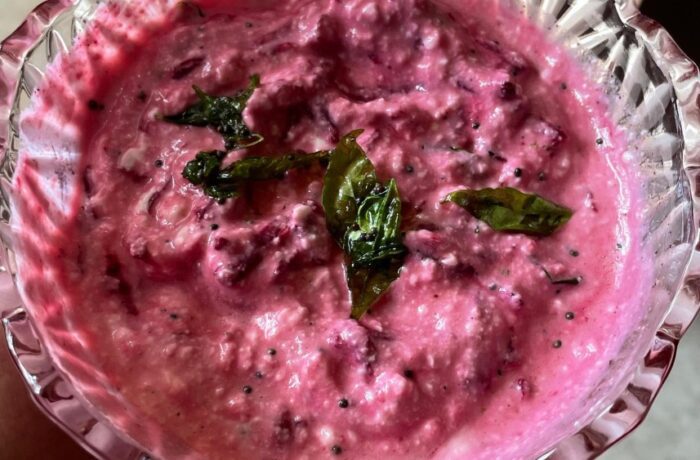 Beetroots are a great source of folic acid. They can reduce the risk of cardiovascular disease and stroke as they control the damage caused to blood vessels. High in nitrates and work as an excellent choice for pre and post workout drink. Packed with antioxidants and help reduce inflammation. 
Ingredients:
1/4

th

cup grated beetroot

100 gms Greek Yogurt

1 tsp olive oil

3-4 curry leaves

1/8

th

tsp mustard seeds
Method: 
To a bowl add Greek yogurt and grated beetroot. Mix well. Now, for the tempering take a kadai, add olive oil, curry leaves and mustard seeds. Let them splatter.  Pour the tempering on the yogurt bowl and enjoy.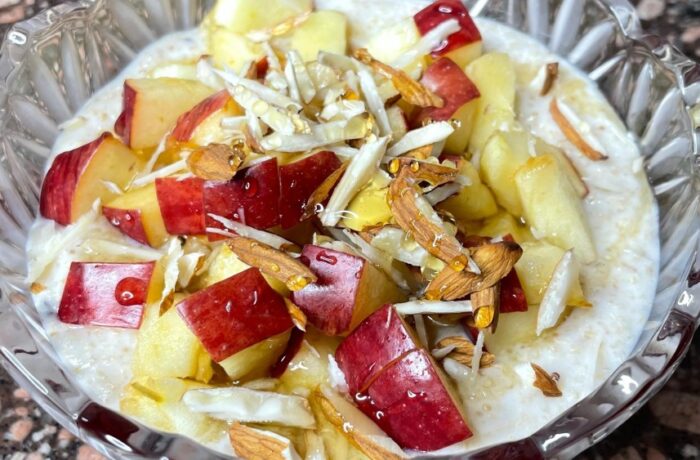 Rajgira also called amaranth, mostly used for Navratri Vrat, is one of the richest sources of calcium, strengthens bones and helps heals fractures. It is gluten free. The flour can be used for making halwa, cheela, dosa and chappati. It has high fibre content and protein as compared to quinoa.
Ingredients:
1/4

th

cup Amaranth (Rajgira)

1 cup low fat boiled milk

1 chopped apple

1 tsp honey

5 chopped almonds

Chopped almonds
Method:
To boiled milk, add rajgira. Stir well and keep for half an hour. Rajgira will swell to make a thick pudding base. Top it with fruit of choice (Here, im adding chopped apple) and honey (optional). This is one very healthy and quick Navratri meal option for you. I simply love this recipe as its so filling and delicious and I don't crave for anything else. Good combination of carbohydrates, fats and protein and just the right amount of sugar needed to kick start my day. You can even top it with raisins.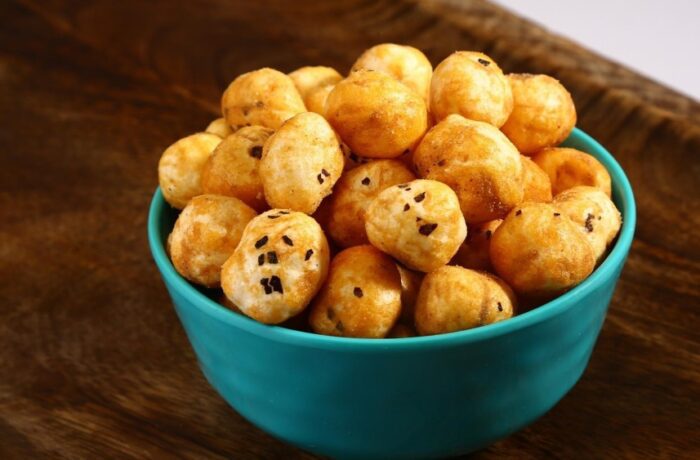 Makhna or fox nuts is a great source of calcium, potassium and magnesium. It is low in sodium, a great evening snack.
Ingredients:
¼ th cup roasted Makhana

5 Almonds

1 tsp Pumpkin seeds

1 tsp flax seeds

1 soaked date (soaked for 10 minutes)

1 soaked fig (soaked for 10 minutes)

300 ml low fat milk
Method: To a blender jar, add roasted makhana, almonds, pumpkin seeds, flax seeds, date, fig. Blend everything together and now add low fat milk. Blend again. Super yummy and healthy shake is ready.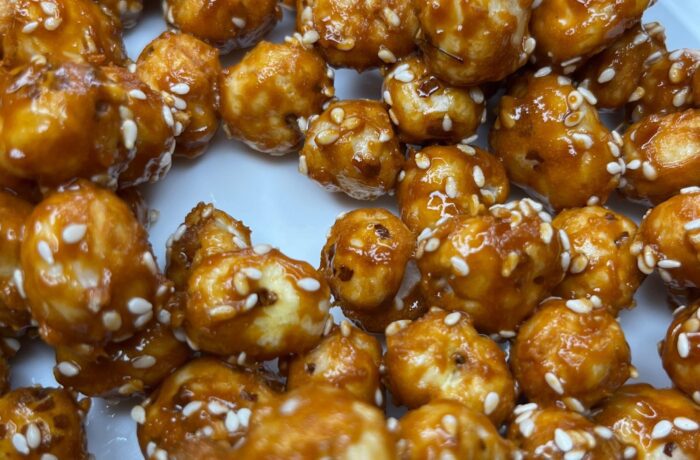 Makhana is one of my favourite snacking options. Coating it with Gur just makes it so delicious. Gur controls your blood pressure and is great to have after food, purifies your body and detoxifies your liver. 
Ingredients:
2 cups Makhana

3 tblsp Gur

1 tsp water

A pinch of baking soda

Sesame Seeds
Method:
To a kadai, add makhana and roast well. Keep them aside and to the same kadai add ghee and Gur. Stir well till the whole Gur melts and to this add water and keep stirring. At this point add baking soda and you will see the colour of the Gur changing but you keep stirring and it will soon turn back to the original colour we want. Add roasted Gur to this. Coat well and sprinkle sesame seeds on top. Transfer to a bowl or plate and let them cool.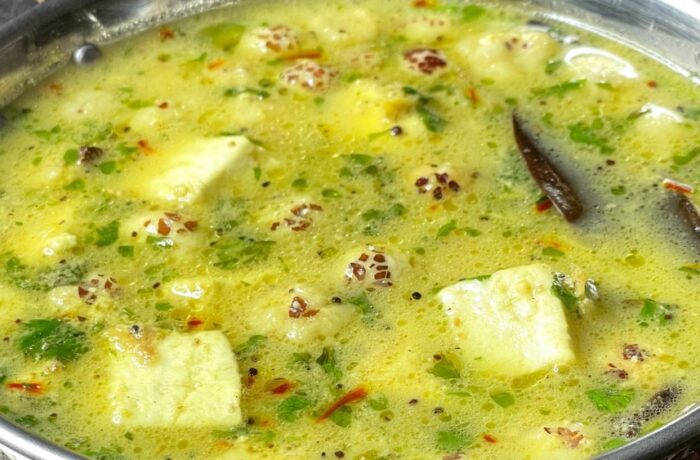 Ingredients:
½ cup Makhana

½ cup Paneer

1 tblsp Ghee

1 tsp mustard seeds

3-4 green elachi

1 small stick of dalchini

2 cloves

2 bay leaves

2 green chillies

Grated ginger

Almond Cashew Paste

1 cup curd

1 tblsp saunf powder

1 tsp black pepper

Salt

Kesar milk

Chopped coriander
Method:
In a kadai add ghee, add mustard seeds, cloves, bay leaves, slit green chillies, green elachi, grated ginger. Stir and add almond cashew paste which I prepared by grinding almonds and cashews in water. Keep stirring and add curd. Stir well and add saunf powder, black pepper and salt. Stir again and add kesar milk which is prepared by soaking a few strands of kesar in milk. Stir and garnish with chopped coriander.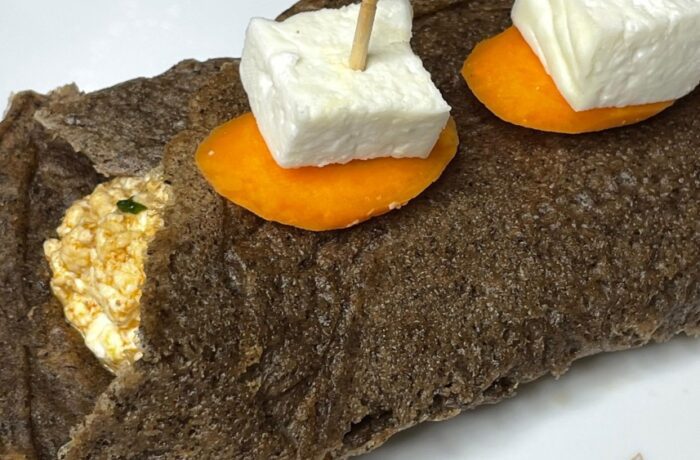 Kuttu ka atta also known as buckwheat flour, has high fibre content and contains essential fatty acids, beneficial for those who have diabetes. Its gluten free and 1 cup contains 122 calories. Great source folic acid, zinc, magnesium, phosphorous
Ingredients:
2 tblsp kuttu ka atta

Salt

Red chilli

Water

50 gms Paneer

2 Chopped green chilli

Chopped coriander

½ tsp cumin powder

½ tsp coriander powder

Pinch of mustard seeds

1 tsp Olive oil
Method:
To a bowl, add Kuttu atta, salt, red chili and water to make the batter and keep aside.  Now, grease the pan and add the batter to make cheela. Take another pan to prepare the paneer filling, add ½ tsp of olive oil, pinch of mustard seeds, chopped green chilli, paneer, salt, cumin powder, coriander powder. Add chopped coriander leaves. Mix well and simple filing is ready. Now, take the cheela, add the filling and roll it to enjoy.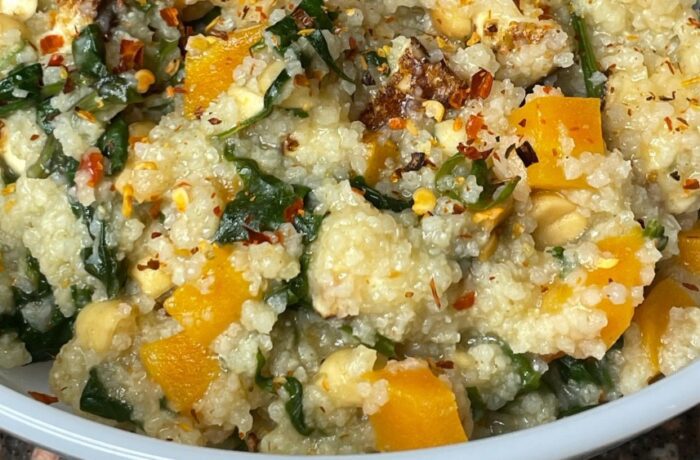 Samak also known as barnyard milliet is a gluten free millet. Samak ke chawal or Vrat ke chawal are very popular in festival fasting days. These are small, cream-coloured grains. They are loaded with high amount of fibre and essential minerals like iron and magnesium.
Ingredients:
1 tblsp ghee

1 tsp sabut cumin seeds

2 dried red chilli

½ cup chopped carrot

1 cup spinach

Salt according to taste

1 tsp Chilli flakes

1 cup samak rice

2 and ½ cup water

2 tblsp chopped peanuts

100 gms diced paneer

Method: To a pan add ghee, cumin seeds and let it splatter. Now add dried red chilli, chopped carrots, spinach, salt, red chilli flakes and mix well. Now add washed samak rice, water. Give it a little stir and cover for 5 minutes. Now, take another pan, grease it and add diced paneer, let it turn golden brown on both sides. Now, add paneer and chopped peanuts to the khichdi. Mix well and serve.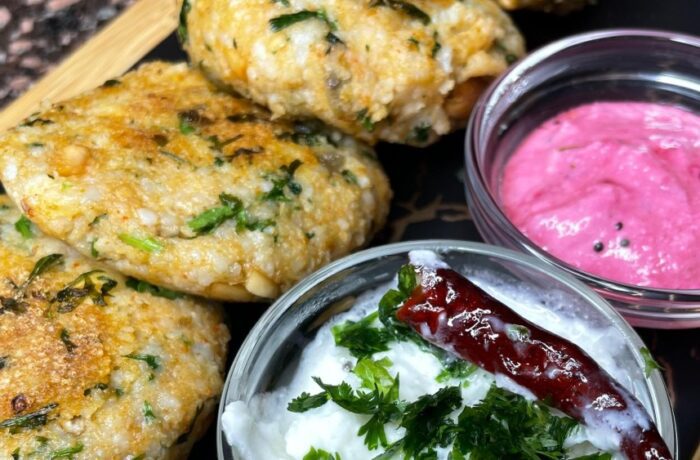 Ingredients:
½ cup boiled samak rice

1 medium size boiled potato

1 tsp cumin powder

1 tsp red chilli powder

Salt according to taste

1-2 chopped green chilli

Chopped coriander

1 tblsp crushed unsalted peanuts

10 Raisins (optional)
Method:
Add all the ingredients in a bowl and mix well. Roll to form tikkis. On a greased pan, put the tikki and let it golden brown. Flip to cook on other side as well. Serve with beetroot curd or mooli ki chutney (The recipes for the same you will find on my YouTube channel).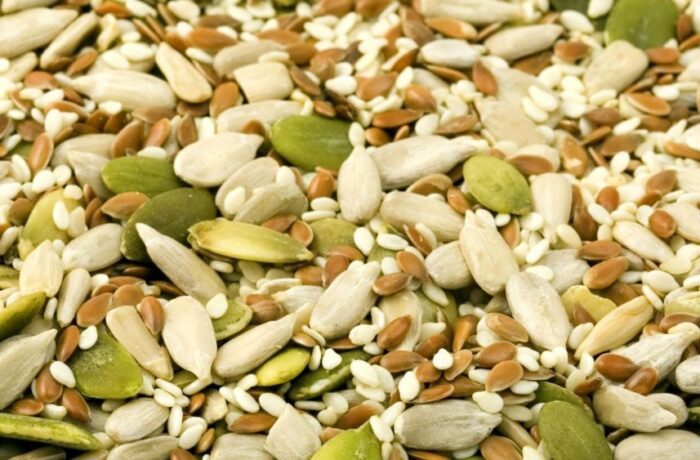 Enjoy the goodness of this shake. The delicious milkshake will give you the much-needed energy to boost your day. Powerful shake for the growing kids as well. Pumpkin seeds, very high in magnesium, lower your blood sugar level and improve your heart health. Sunflower seeds, great source of vitamin E, B1 and B6, rich in iron, magnesium and zinc. Flax seeds, high in ALA omega 3, rich in fibre and it's recommended to have 1-2 tblsp ground flax seeds. Khus- khus or poppy seeds promotes digestion and boosts your skin and hair health. Almonds will lower your LDL cholesterol and are packed with vitamin E and healthy fats.
Dates are high in sugar and great pre and post workout and it's recommended to have 2-3 dates.
Ingredients: 
10 Almonds

2 dates

1 tsp pumpkin seeds

1 tsp flax seeds

1 tsp sunflower seeds

1 tsp poppy seeds

250 ml low fat milk

Method: To a blender jar add almonds, dates, seeds and 100 ml milk. Blend well and add the rest 150 ml of milk. Pour in glass and enjoy. You can replace dates with figs as well.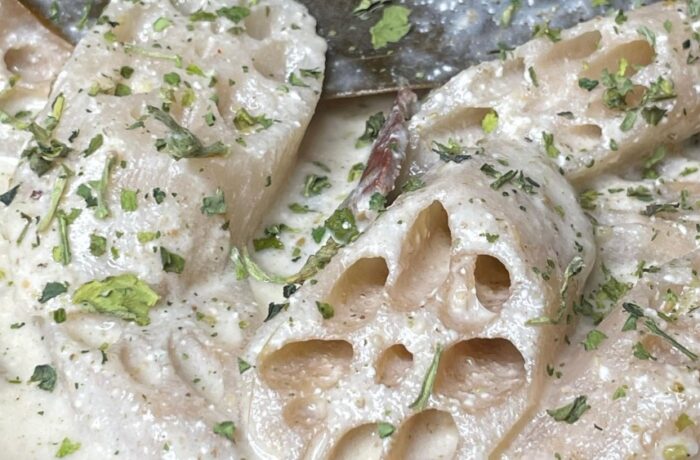 Nadru or lotus stem also known as kamal kakdi is a great source of vitamin C. It helps boost immunity and fights infection. The root also contains essential minerals like zinc, magnesium, copper and iron. Rich in dietary fibre and low on saturated fats.
Ingredients:
1 tblsp ghee

3 Green elachi

1 bay leaf

1 small stick of cinnamon

3 slit green chilli

1 and ½ cup nadru

2 cups curd

1 tblsp cumin powder

1 tblsp saunf powder

1 tblsp coriander powder

1 tblsp ginger powder

2 tblsp almond cashew paste

Dried methi leaves
Method: To a cooker add ghee in the cooker, add a pinch of hing, now add small green elachi or cardamom, cinnamon or dalchini, slit green chillies, bay leaf and nadru. Add salt and black pepper, a little water, and close the lid of the cooker. Wait for 2 whistles. 
Meanwhile let's prepare the masala curd. To 2 cups of curd add, cumin powder, saunf powder, coriander powder and ginger powder. Mix well. Open the lid of the cooker and check if nadru has become tender. Now, add the masala curd to the nadru and 2 tblsp of almond cashew paste (this paste is prepared by grinding the almonds and cashews with water). Keep stirring. In the end, add crushed dried methi leaves and serve.
Hope you will like all the recipes shared. Do try them. I wish you and your family a very Happy Navratri. May Goddess Durga bless you all with health, happiness and prosperity.