The news of being pregnant simply fills the hearts of everyone with joy, especially a lady who is going to enter into an altogether new and different phase of her life. Mom, maa, mother is not just a word, it's a feeling. A connection that you are going to build with the unborn kid in your womb for nine months more than anyone else in the world. A bond is as pure as water, a priceless feeling.
A pregnant lady is worried mostly about what to eat so that she does not deprive the unborn of all the essential nutrients. What pregnancy workouts she can safely do, the yoga poses she can practice, and all the breathing exercises she can follow.
How Fitness with Nidhi helps?
Wellness coaches, diet consultants, and team gynaecologists, at Fitness with Nidhi, understand the feeling so we are here to guide you and give you some dietary guidelines, pregnancy workouts, and pregnancy yoga to steer you through the phase. Many ladies are given guidance by the elders as not to starve and should eat the meals of two people. But this concept is wrong. Let's check out a few important things.
7 Foods to Eat During Pregnancy
Good nutrition habits during pregnancy optimize maternal health and reduce the risk of some birth defects like sub-optimal fetal growth and development, and chronic health problems in the developing child. We, at Fitness with Nidhi, follow MyPlate guidelines for pregnancy.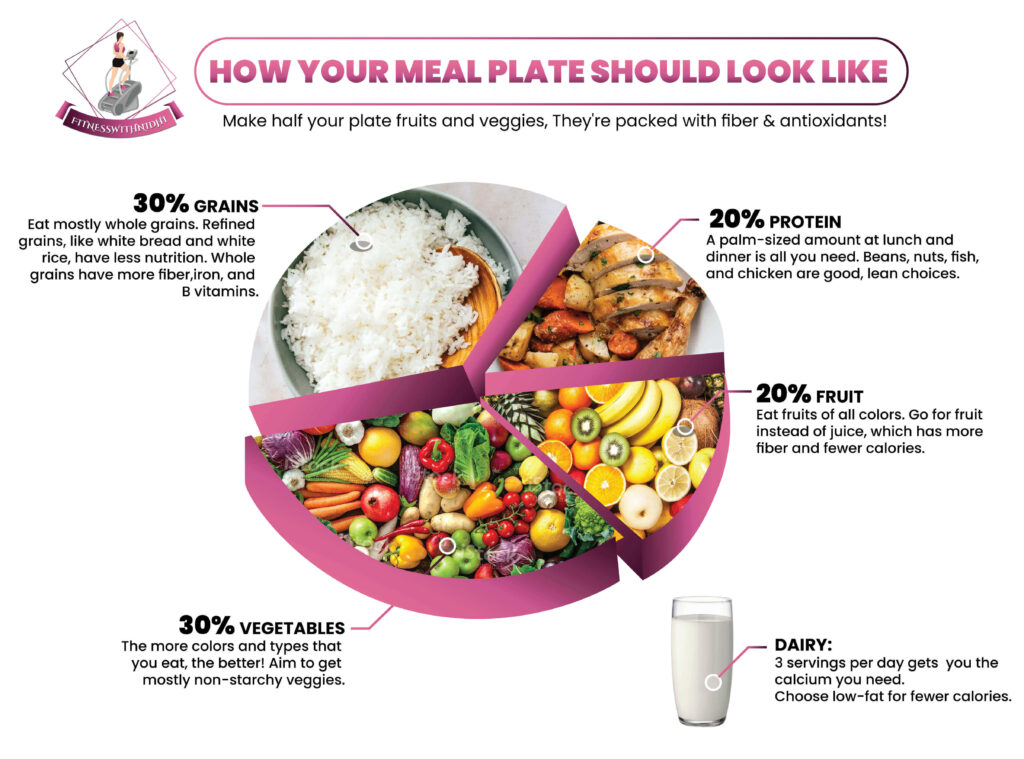 Consume a variety of whole grains and cereals– Whole grains and cereals are sources of carbohydrates, B- Vitamins, and Iron. They are also a good source of fiber. Read the labels to check out for ingredients that contain 100% whole grains. Examples of whole grains are oats, bajra, rye, jowar, whole wheat flour, and many more.
The standard serving size of bread, cereals, and other grain products is

Bread – 1 slice
Muffin/ biscuit/ bun/tortilla – 1 medium piece
Cooked cereal – ½ c
Boiled rice/ Boiled Pasta/ Boiled noodles – ½ c
Include multi-colored vegetables – Vegetables are rich sources of minerals and vitamins like potassium, iron, Vitamin -A, and Vitamin – C. All vegetables that you are going to consume must be fresh because they provide your body with most of the nutrients. A few examples are cruciferous vegetables, all roots, and tubers, all dark-colored vegetables. Cook these vegetables for the last time and use minimum water.
The standard serving size of these vegetables is

Cooked vegetables – ¾ c
Raw vegetables – 1 c
Vegetable Juice – 150 ml

Choose Fruits Directly From The Farm To Plate – Choose fruits wisely and seasonal ones. Try to have them whole and avoid juicing them. Fruits are also rich sources of vitamins and minerals. They are a great source of energy. Make sure that you don't eat fruit that has been cut for a very long time. Avoid market-bought packaged juices.

Fruits rich in Vitamin – A are apricots, plums, mango, tomato
Fruits rich in Vitamin – C are Guava, lemon, litchi, amla, orange, papaya, strawberry, cashew fruit, cape gooseberry
The standard serving size for fruits

Fresh Fruit – 1 Average size piece
Canned Fruit – ½ c
Essential Protein – Various sources of protein like meat, poultry, fish, eggs, pulses, peanut butter, and soya should be a part of your regular eating plan. These provide us with iron, zinc, magnesium, selenium, etc that aids in the healthy growth of your baby. Proteins are also called building blocks of your body because they help in the formation of new tissue in you and your unborn.
Standard Serving size of Protein

All cooked meat, chicken, and fish – 100g
Eggs – 2 wholes
Peanut butter – 1 tbsp
Nuts or seeds – ½ c
Raw peas or beans – 1 c

Dairy Products – Milk and Dairy products are considered a wholesome diet in themselves as these are rich sources of calcium, vitamin D, all B vitamins, Vitamin A, and protein. During pregnancy, if you cannot digest milk, you can substitute it with other products like broccoli, sesame seeds, cheese, cottage cheese, and Greek yogurt which are rich sources of vitamin C.
Standard Serving size for dairy products

Milk and yogurt – 1 c
Cheese – 50g
Cottage cheese – ½ c

Healthy Fats – Homemade butter, ghee, extra virgin olive oil, groundnut oil, mustard oil, sunflower oil, etc are good sources of energy and essential fatty acids but are deficient in other nutrients.
Vitamins and Minerals – Timely have your vitamin supplements as suggested by the gynecologist. Recommended Daily Intake (RDI) of folic acid for pregnant women is 600 micrograms. The foods that are rich in folic acid are green beans, liver, tomato, whole grains, cereals, pulses, spinach, curry leaves, mint leaves, lady finger, and groundnut.
Nutritional Requirement of A Pregnant Lady Through All 3 Trimesters
If I talk about this in general, a pregnant lady's nutritional requirement doesn't increase until the second trimester when she needs to increase her calories by 300 per day and 450 per day by the third trimester.
Download All in One Pregnancy and Child Nutritions Plan Guide
First Trimester (0-12 weeks)
Nutrition for the baby is of utmost importance in the first trimester because it's the stage of implantation and organ development. The lady undergoes several discomforts during this trimester because of nausea, vomiting, and morning sickness so it's important to assure adequate nutrient intake. The important goal of the future mother is not to forget her prenatal vitamins which include folic acid and protects the unborn from neural tube defects.
An iron supplement is another important supplement. The Centre for disease control and Management recommends 27 mg per day for pregnant ladies.
Calcium intake is important throughout pregnancy. Recommended is 1000-1200 mg per day which is equivalent to 3 glasses of milk per day and vitamin D for calcium absorption.
Second Trimester (13-26 weeks)
The first trimester symptoms of nausea and morning sickness usually disappear as a lady enters week 13th of her pregnancy. Here the calorie requirement increases by 300 per day.
Protein is important for the growth of fetal organs. The protein requirement increases from 46 g to 70 g in this trimester.
Women need to increase their omega-3 fatty acids intake either by choosing foods rich in omega – 3 like salmon etc or mostly they are given DHA supplements by their gynecologist.
There should be a variety in your food and choose nutrient-dense foods like fruits and vegetables, whole grains, and lean protein.
Third Trimester (27-40 weeks)
The nutritional requirements of the fetus increase in the third trimester. Majorly, 50%- 70% of the calories should come from carbohydrates because an adequate supply of glucose is required by the fetus at this stage, 20% from protein, and the rest from fat.
2 Foods To Avoid During Pregnancy
Alcohol during the first trimester. Alcohol-related issues like mental retardation, fetal alcohol syndrome, and learning disabilities.
Caffeine also should be avoided. It's dangerous at particularly higher doses.
Hear from our client
Conclusion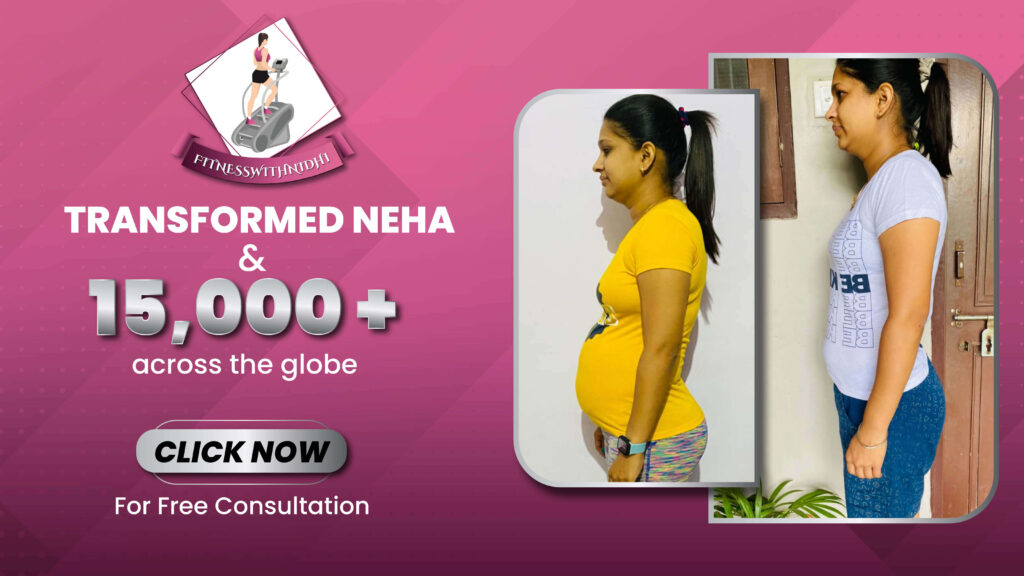 Pregnancy is a time of growth, both for the expectant mother and the precious life developing within her. It's a period filled with moments of awe and amazement and we at Fitness with Nidhi understand it. That is why we want to make it special for you by providing you with the right guidance for meal plans and the right workouts. From the early stages of conception to the final moments of labor and delivery, every step along the way, our team gynecologist and maternity, child care specialist is here to guide you with proper check-ups and nutrition plans.