Curry leaves or Kaddi Pata, scientifically known as Murraya koenigii, are a popular herb in Indian cuisine known for their distinctive aroma and flavor. These small, glossy leaves are an aromatic addition to many of our Indian dishes and have a unique taste. Other than their use as a spice, they are packed with numerous health benefits that make them an important medicinal plant. In this blog, we will discuss the various health benefits, recipes and two self-curated preparations – Curry leaves Powder and Curry Leaves Chutney.
6 Health Benefits of Curry Leaves
Rich in Nutrients – Curry leaves are a rich source of essential nutrients, including vitamins A, B, C, and E, as well as minerals like calcium, phosphorus, and iron. These nutrients play a vital role in maintaining overall health.
Improves Digestion – The compounds found in curry leaves help improve digestion by promoting the secretion of digestive enzymes. They can alleviate issues like indigestion, diarrhoea, and constipation.
Weight Management – Curry leaves are known to aid in weight loss due to their ability to reduce cholesterol and triglyceride levels in the body. They also can assist in adjusting blood sugar levels.
Hair Health – These leaves are often used in hair care remedies for their ability to strengthen hair follicles, reduce hair loss, and prevent premature greying.
Antioxidant Properties – Curry leaves are rich in antioxidants, which can protect the body from oxidative stress and reduce the risk of chronic diseases.
Anti-Inflammatory properties – The compounds in curry leaves have anti-inflammatory properties that can help alleviate inflammatory conditions such as arthritis and gout.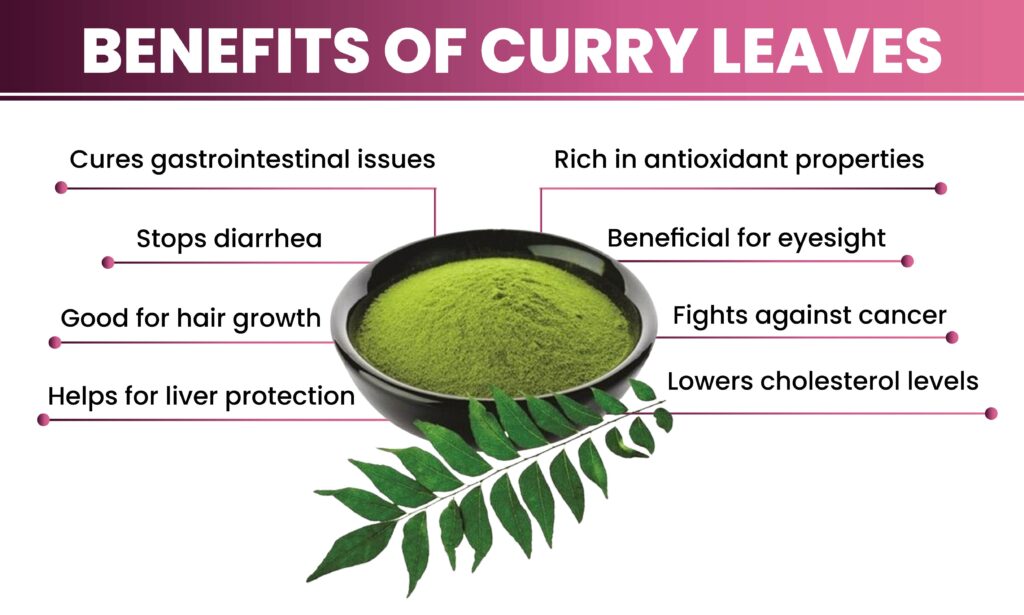 How to use Curry Leaves in Recipes
Tempering– Curry leaves are a staple in Indian tempering or tadka. They are often added to hot oil along with mustard seeds, cumin seeds, and other spices to infuse dishes with their aromatic flavour.
Curries – As the name suggests, curry leaves are a must-have in curry preparations. They add a unique citrusy aroma to curries, gravies, and stews.
South Indian Cuisine – In South Indian cuisine, curry leaves are used extensively in dishes like sambar, rasam, and coconut-based gravies, imparting a distinctly regional flavor.
Chutneys – Curry leaves are a key ingredient in many chutney recipes, enhancing the taste and aroma of these condiments.
Side Effects of Curry Leaves
Curry leaves are generally safe for consumption when used in culinary quantities. However, some people may experience allergic reactions, digestive issues, or skin irritation when consumed in excess. If you're new to using curry leaves in your diet, start with small amounts to ensure you don't have any adverse reactions.
Curry Leaves Powder
An easy way to add curry leaves to your cooking is by making powder out of its leaves. Here we are sharing a simple recipe that you can make easily at home.
Ingredients:
1 cup fresh curry leaves
1/2 cup dried red chilies
1/4 cup urad dal (split black gram)
1/4 cup chana dal (split chickpea)
1/4 cup coriander seeds
1 tsp cumin seeds
A pinch of asafoetida (hing)
Salt to taste
How to make curry leaves powder at home
Wash and dry the curry leaves thoroughly.
Dry roast the curry leaves in a heavy base pot until they become crisp. Remove them from the flame.
In the same pan, dry roast the red chillies, urad dal, chana dal, coriander seeds, and cumin seeds until they turn golden brown.
Keep aside all the ingredients so that they come at room temperature.
Grind all the roasted ingredients along with asafoetida and salt into a fine powder.
Store the curry leaves powder in an airtight container for future use.
How to use curry leaves powder in various recipes
The curry leaves powder or the curry leaves premix can be stored in a bottle and used over a very long time. Since all ingredients are dry roasted and then blended, the powder doesn't go bad easily. There are many recipes where you can use this but I am going to share my favourite with you.
Curry Leaves Lemon Rice
Preparation time – 10 minutes
Cooking time – 15 minutes
Ingredients
Boiled rice – 60 g
Mustard seeds – 1 tsp
Split green chillies – 2 pieces
Peanuts – 20 g
Lemon juice – 1 piece
Curry leaves powder – 1 tsp
Asafoetida – a pinch
How to make curry leaves lemon rice
In a kadhai, take 10 ml oil.
Once hot, add mustard seeds.
Then add peanuts, fry them and after 2-3 minutes add boiled rice.
Sprinkle some salt and red chilli powder, also add the split green chillies and then sprinkle curry leaves powder over it.
Mix well all the ingredients and after 5 minutes, turn off the flame.
Now add lemon juice and again mix well. Serve hot.
Curry Leaves Chutney
Curry leaves chutney is a delightful condiment that can be enjoyed with dosa, idli, or rice. This chutney will become your all-time favourite, once you taste it. Here's a quick recipe:
Ingredients
1 cup fresh curry leaves
2-3 green chilies
1/4 cup grated coconut
2 tbsp roasted chana dal
1 tbsp tamarind paste
Salt to taste
1 tsp oil
How to Make Curry Leaves Chutney at Home
Heat mustard seed oil in a pan, add a pinch of hing, mustard seeds, cumin seeds, dried red chillies and raw peanuts.
Saute and add curry leaves. Saute for a minute and add the mixture to the mortar.
Grind with pestle into a coarse texture.
Add anardana, jaggery and salt. Mix well and add lemon juice.
Transfer the chutney to a bowl and serve it as a dip or accompaniment to your favorite dishes.
Frequently Asked Questions
What are curry leaves?
Curry leaves are aromatic leaves from the curry tree (Murraya koenigii) native to India. They are used to add flavor and aroma to various dishes.
What do curry leaves taste like?
Curry leaves have a unique flavor described as a mix of citrusy, slightly nutty, and slightly bitter. They add depth and aroma to dishes rather than intense spiciness.
Are curry leaves and curry powder the same thing?
No, they are not the same. Curry leaves are fresh leaves from the curry tree, while curry powder is a blend of various dried spices used to make curry dishes. The two have different flavors and uses.
Can you freeze curry leaves?
Yes, you can freeze curry leaves to extend their shelf life. Place them in an airtight container or a freezer bag and store them in the freezer. They will retain their flavor for several months.
What are the health benefits of curry leaves?
Curry leaves are rich in antioxidants, vitamins, and minerals. They are believed to have various health benefits, including aiding digestion, promoting hair health, and reducing cholesterol levels.
Where can I buy curry leaves if they are not available locally?
ou can often find fresh or dried curry leaves in Indian grocery stores. Alternatively, you can buy them online from various retailers.
Can I grow a curry tree at home?
Yes, you can grow a curry tree at home if you live in a suitable climate. They thrive in tropical and subtropical regions. You can start from seeds or purchase a young curry tree plant.
How do I store fresh curry leaves?
To store fresh curry leaves, place them in a plastic bag or an airtight container and refrigerate them. They should stay fresh for about a week.
Conclusion
Curry leaves along with being a good culinary item also offer many health benefits. It must be used in moderation to get most of its benefits and refrain from any of its potential side effects.