Millets are a group of small-seeded grains that belong to the family Poaceae. They have been cultivated and consumed by humans for thousands of years, particularly in Asia and Africa.
There are several types of millets, including but not limited to:
9 Types of Millets
Proso Millet (Panicum miliaceum): Proso millet is one of the most widely consumed types of millet. It has a mild, nutty flavor and a soft texture when cooked. It is a very good option for diabetic people because of its low glycemic index.
Pearl Millet (Bajra): It is a staple in many parts of Africa and India. It has a slightly nutty flavor and a grainy texture. It is one of the best millet for type – 2 diabetes. Rich in iron, protein and fibre, it can be used to make chapatis and khichdi. It is also a great source of magnesium and calcium.
Finger Millet (Ragi): It is a nutritious millet commonly consumed in Southern India and parts of Africa. It has a reddish-brown color and a mild, earthy taste.
Foxtail Millet (Kangni): Foxtail millet, is popular in East Asia, particularly in China and Korea. It has a delicate, slightly sweet flavor and a fluffy texture when cooked. It has a good amount of iron and is great for overall immunity.
Barnyard Millet (Sanwa): Barnyard millet is named for its similarity to the grain found in barnyards. It has a mild, slightly nutty flavor and a texture similar to rice. It can help improve bone density.
Buckwheat Millet (Kuttu)– Kuttu ka atta used during Navratri fasting. It helps reduce blood pressure and is also diabetic-friendly. It is also good for weight loss.
Amaranth Millet (Rajgira/Ramdana) – It helps fight hair loss. It is also a great source of calcium, protein, and fiber.
Little Millet (Sama)- Mostly used in southern states of India. It is loaded with Vitamin B. It is also used as an alternative to rice.
Sorghum Millet (Jowar)– Jowar is rich in iron, fiber and protein. People with gluten sensitivity can have jowar. It has more antioxidants as compared to blueberries
Today, let's discuss Proso Millet
What is Proso Millet?
Proso Millet is a long-forgotten millet but is making a comeback because of its high nutritional value. Proso millet is known by various names like broomcorn millet, common millet, hog millet, Kashif millet, red millet, white millet, or whatever name you are familiar with. You can simply search for it in the market with its common name – Panivaragu.
Nutritional Value of Proso Millet
This minor millet or Indian millet is a rich source of healthy carbohydrates, protein, good fatty acids, Vitamin B3, magnesium, and potassium.
Let's have a look at its nutritional profile per 100 g of proso millet
Macronutrients
| Nutrient | Amount |
| --- | --- |
| Calories | 341 kcal |
| Protein | 12.5 g |
| Fat | 1.1 g |
| Carbohydrates | 70.4 g |
| Fiber | 2.3 g |
| Calcium | 14 mg |
| Phosphorous | 206 mg |
| Iron | 0.8 mg |
Proso Millet in local languages across India
Proso millet is called by various different names in many other languages across India. These are as
Hindi: Chena or Barri
Tamil: Pani Varagu
Telugu: Varigulu or Variga
Kannada: Baragu
Marathi: Vari
Gujarati: Cheno
Bengali: Cheena
Malayalam: Panivaraku
Oriya: China Bachari Bagmu
8 Health Benefits of Proso Millet
Helps in treating dementia: Proso millet is a good source of lecithin. Lecithin contains a chemical named choline. With the help of choline, our brain communicates with the rest of our body. Administering choline helps in reducing the problems of dementia and Alzheimer's disease. Thus, proso millet can help treat these conditions and also improves neurological and nervous system conditions.
Lowers bad cholesterol: Proso millet contains phytic acid which helps in building up the levels of HDL or good cholesterol and thus, lowers the levels of LDL or bad cholesterol. Moreover, proso millet is loaded with both soluble and insoluble fibers which aid in flushing out extra cholesterol or bile from our body. Thus, it lowers cholesterol in our body which directly affects our body weight and aids in healthy weight loss.
Gluten-free: It contains no gluten which makes it ideal to be included in the list of gluten-free foods. Adding to this, viewing its good amount of vitamin B3, magnesium, potassium, and phosphorus levels, it definitely helps in covering up the various nutrient deficiencies that are caused by being on a gluten-free diet. Mostly our gluten-free diets are deficient in protein, healthy carbohydrates, and good fatty acids but proso millet will surely make up for any such deficiency.
Skin health: Pellagra is a condition caused by the deficiency of vitamin B3 in our diet. It results in dry, scaly, and rough skin. Proso millet is rich in vitamin B3 which prevents pellagra.
Anti-ageing properties: Proso millet is rich in antioxidants that help in scavenging free radicals in our body. The build-up of free radicals is the known mechanism behind aging. So consuming Proso millet definitely delays and slows down the process of aging.
Lowers blood sugar levels: it has ample amounts of magnesium, that help in managing blood sugar levels by maintaining insulin levels. Thus, it helps in the prevention and cure of type 2 diabetes.
Heart health and hypertension: it is evident that proso millet is rich in magnesium and potassium, both of which are necessary in regulating blood pressure, thus avoiding any chance of heart stroke and atherosclerosis.
Gall stones: Gall stones that are caused due to the precipitation of bile juice due to the build-up of high levels of cholesterol in our body can be easily managed if one includes proso millet in his/her daily diet. As already discussed, the phytic acid, soluble fiber, and insoluble fiber found in proso millet helps in lowering bad cholesterol and increasing the levels of good cholesterol.
Incorporating Proso Millet into Your Meals
Proso millet is incredibly versatile and can be used in a variety of dishes. Here are a few ideas to help you incorporate it into your meals:
Breakfast: Start your day with a nutritious proso millet porridge by cooking it with almond milk and topping it with fresh fruits, nuts, and a drizzle of honey or maple syrup.
Salads: Add cooked and cooled proso millet to your favorite salad recipes for an extra crunch and nutritional boost. It pairs well with vegetables, herbs, and a tangy dressing.
Side Dish: Use proso millet as a healthier alternative to rice or pasta in your side dishes. Cook it in vegetable broth and season with herbs and spices for added flavor.
Soups and Stews: Enhance the nutritional content of your soups and stews by adding proso millet. It absorbs the flavors of the broth while providing a pleasant texture.
Baking: Ground proso millet can be used as a gluten-free flour substitute in baking recipes, such as bread, muffins, and cookies.
Healthy Proso Millet Recipes from Fitness with Nidhi's Kitchen
1. Proso Upma
Proso Upma is a nutritious and delightful dish that originates from the rich culinary traditions of South India. This recipe uses Proso Millet, a grain known for its high protein and fiber content, as the main ingredient. The millet is cooked with a variety of aromatic spices, vegetables, and lentils to create a hearty and wholesome meal.
Proso Upma is not only delicious but also packed with essential nutrients, making it a perfect choice for a balanced breakfast or a light dinner. Enjoy the unique flavors of this traditional dish and give your day a healthy start!
Preparation time – 30 mins
Cooking time – 30 mins
Servings – 2
Ingredients
Proso millet – 250 g
Oil – 1 tbsp
Peanuts – 25 g
Vegetables – ½ cup (150 g)
Curry leaves – 6-8
Salt,
Green chillies,
Red chilli powder – as per taste
How to make Proso Upma (Panivaragu Upma)
Start by taking proso millet in a large bowl.
Wash it 2-3 times. Now soak it in water for 6 hours max. or for 2 hours min.
In a wok, add oil, then add chopped ginger, curry leaves, green chilies, mustard seeds, vegetables, and all spices. Stir fry the veggies.
Then add millets and roast them for another 3-4 minutes.
Now add water so as to give it a porridge-like consistency.
Leave it to cook at low flame for 20-25 minutes till the millets get softened.
Serve hot.
2. Proso Idli
Proso Idli is a healthy and delicious twist on the traditional South Indian Idli. This recipe incorporates Proso Millet, a nutrient-dense grain known for its high protein and fiber content. The Proso Millet is fermented with a mixture of urad dal and rice, creating a batter that is then steamed to produce soft, fluffy idlis.
These idlis are not only tasty but also packed with essential nutrients, making them an excellent choice for a wholesome breakfast or a light meal. Experience the unique taste and texture of Proso Idli, and add a nutritious touch to your everyday meals!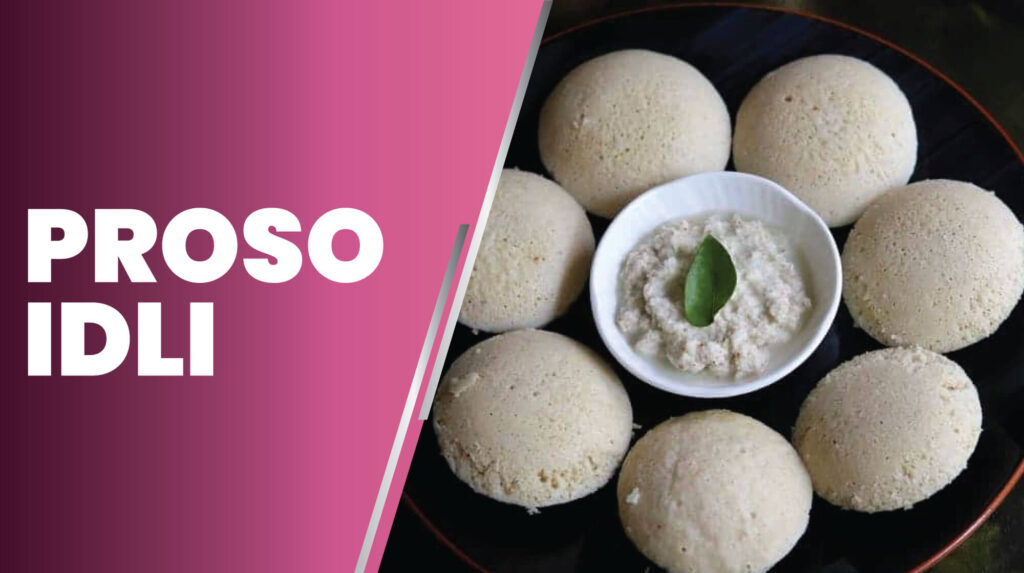 Preparation time – 30 min
Cooking time – 40 min
Servings – 5
Ingredients – Proso millet – 250 g
Sooji – 100 g
Fruit salt – 1 tsp
Yogurt/curd – ¼ cup
Salt
Vegetables – as per choice
How to make Proso Idli
Wash and soak the proso millet just as mentioned in the first recipe.
Now make a batter by grinding it.
To this batter of millet add sooji, curd/yogurt, salt, and water as needed.
Now leave it aside for 1 hour.
Add fruit salt ½ tsp to as much batter as you are going to use right now.
Simultaneously grease the idli stand with oil and pour the batter into it.
Leave it in a steamer for 5-6 minutes and check in between by piercing a knife through your idlis.
Serve hot with coconut chutney and sambhar.
Conclusion
Proso millet is an ancient grain that has stood the test of time due to its incredible nutritional value and versatility. Whether you are looking to improve your heart health, manage your blood sugar levels, or simply add more nutrient diversity to your meals, proso millet is a grain worth exploring. With its rich nutritional profile and easy incorporation into various dishes, proso millet can be a valuable addition to a balanced and healthy diet. Give this ancient grain a try, and experience the benefits it has to offer.