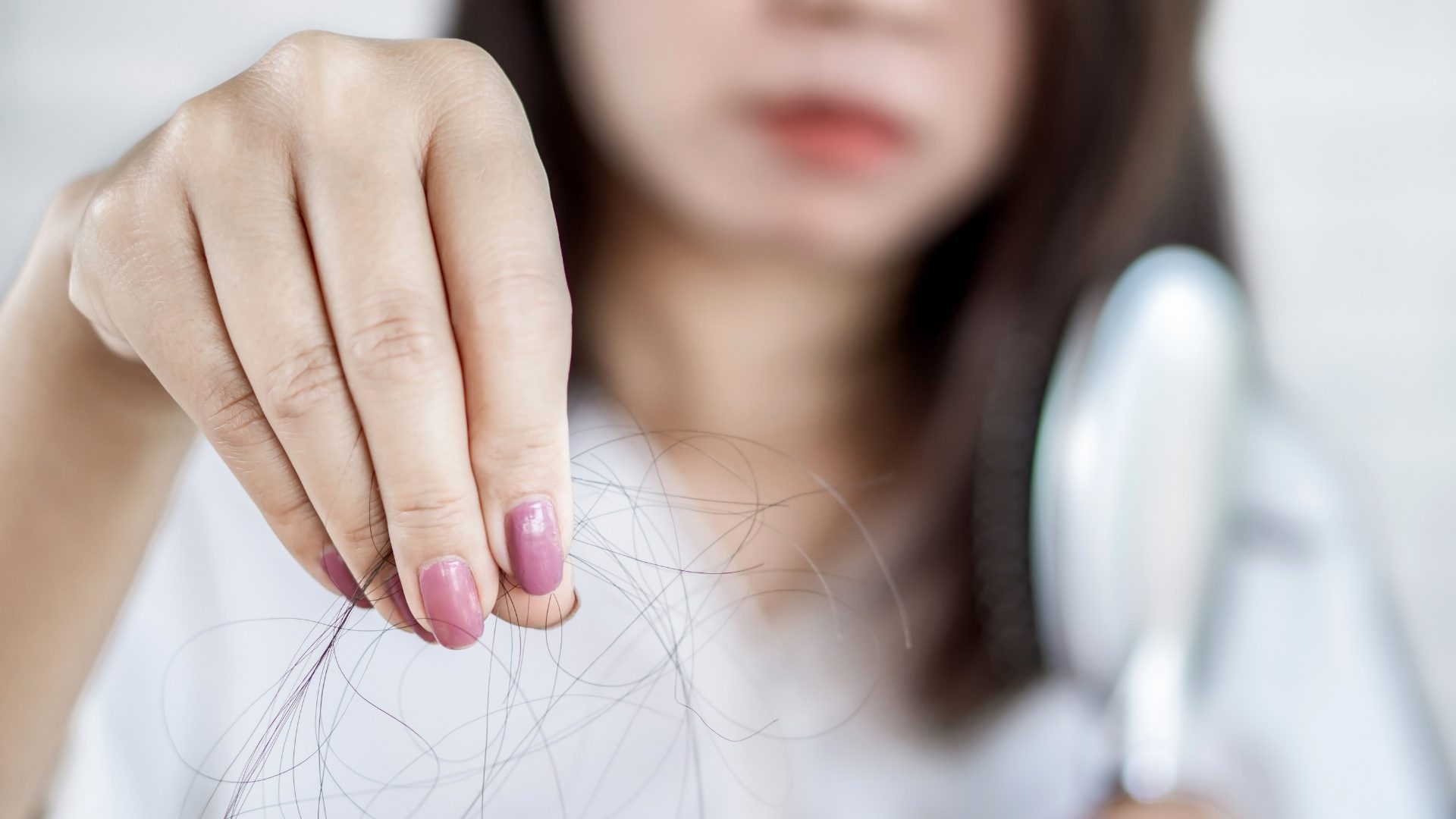 Hair care is no cake walk and who would understand this better than our generation. Exposure to pollution, bad hair products, poor diet and stress are all factors for hair damage.
Biotin is a B vitamin often recommended for hair health. Since biotin deficiency can lead to thinning of hair, some people claim that taking biotin supplements can thicken hair and stimulate growth. The supplements are available in pill form and tablet. Biotin deficiency can lead to brittle nails, thinning of hair, dry skin etc
As I always say my focus has always been on improving your lifestyle and including foods that can actually help you with the problem.
Protein – Your hair strands are made up of protein called Keratin. Lack of protein can lead to hair fall. Losing 50-100 strands in a day is normal but more than that is not normal. Keratin is the structural protein that makes up your hair. Protein rich foods and biotin helps in synthesis of protein needed for your hair. Egg, chicken, lentils, tofu are all good sources of protein. You can even include whey protein supplement. 0.8 to 1 gram/ kg body weight is the protein that is required everyday even if you are not working out which means if you are 60 kgs, you need at least 60 gms of protein for vital functioning.
Antioxidants: Antioxidants help to improve the hair growth by maintaining the collagen in the body or the connective tissues of hair follicles. Fruits like berries, kiwis, ginger, garlic, turmeric, green leafy vegetables are all good sources of antioxidants.
Healthy fats and omega – 3
Omega – 3 nourishes your hair and support its growth and they also reduce the inflammation sometimes associated with hair loss, making your hair look healthy and shiny. Omega – 3 helps in opening the follicles and promote hair growth. Salmon definitely is the number one source, apart from this, almonds, walnuts, chia seeds, flax seeds and little bit of ghee.
Recipe of Biotin rich Powder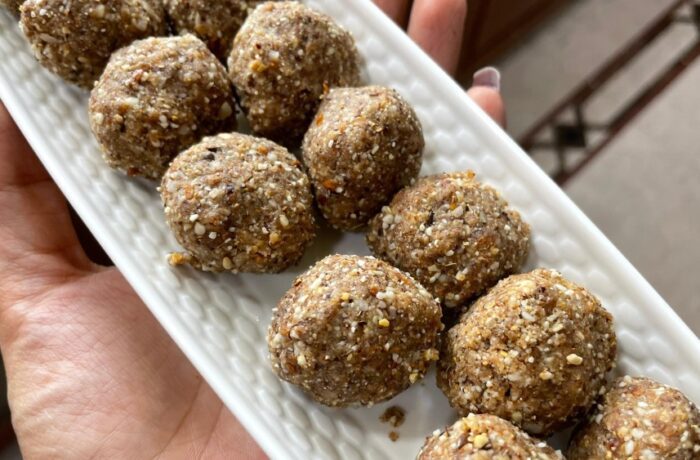 I am going to share with you an amazing recipe in which all ingredients used are biotin rich. You can use it in two ways.
½ cup almonds
½ cup raw peanuts
2 tblsp sunflower seeds
2 tblsp flax seeds
1/8th tsp elachi powder
1/4th cup desiccated coconut
7-8 dates
Roast almonds, peanuts, sunflower seeds and flax seeds together. Cool them and add to the blender. Your biotin rich powder is ready. You can add 1 tblsp to the Greek yogurt or smoothie of choice. Second way of using this is making ladoos. Take the powder in a bowl, add elachi powder and blended seedless dates and desiccated coconut. Mix it all well and make ladoos. These are biotin ladoos and u can have 1 daily in the morning.
Amla, Retha and Shikakai
One of the oldest combinations which have been widely used is amla, Retha and shikakai. Amla also called Indian gooseberry is loaded with antioxidants which can protect hair cells from any damage. Reetha also called soapnut is one of the major hair care ingredients especially used in ayurveda. They produce mild suds that give out lather when they come in contact with water. The plant is rich in saponin, which makes hair healthy. Shikakai is the perfect element in the trio which helps your hair in absorbing the goodness of amla n reetha.
Take all the ingredients, amla, reetha and shikakai in equal quantities. Soak them in water overnight in cast iron utensil. Next morning, boil the mixture. Let it cool down and mash all the ingredients well with your hand and strain it. Now, use the liquid to wash your hair ones or twice a week.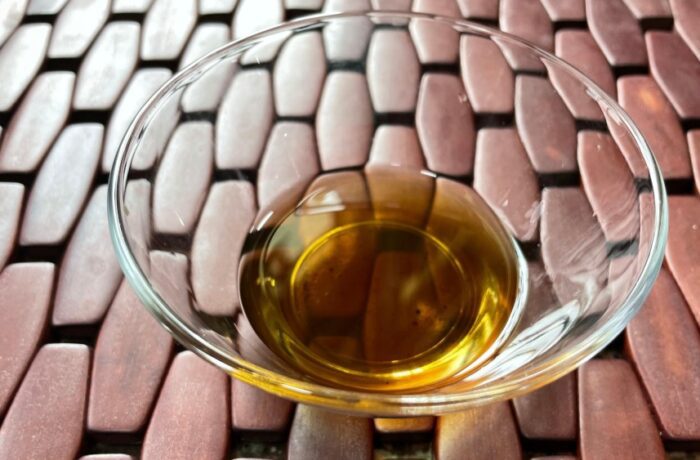 For this oil I need curry leaves. I'm going to pluck a few from my kitchen garden. The hair oil is so easy to make and with so many benefits. Take cast iron utensil and add 2 tblsp of the coconut oil, to this add a tblsp of fenugreek seeds (methi dana) and freshly plucked curry leaves. Heat the oil so that the leaves and methi dana turn black. Cool and massage your scalp with this oil. You can even apply along the length. The oil deeply moisturises and nourishes your hair. Use twice a week. Steam your hair after applying oil. Doing so will improve the absorption. If you don't have a steamer, you can dip a towel in hot water and tie your hair with it.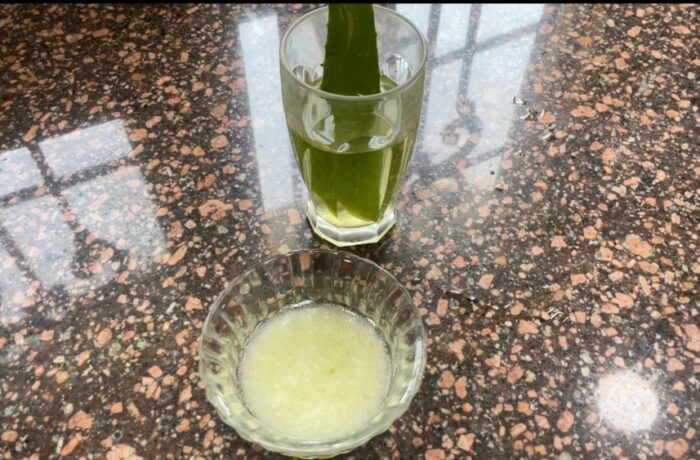 For this mask, we need fresh aloe vera. Aloe vera gas anti-bacterial and anti-microbial properties. It deep cleans and strengthens your hair. Use a sharp knife to slice off the top leaf and scrap the gel, to this add vitamin – E capsules. Cut the tip of the capsule and press to release the oil. Add this to the blender and blend. Your hair mask is ready. Leave it for 30 minutes and then rinse it off.
Hope you liked the information that I shared with you. Do let me know in the comment section.