Raksha Bandhan, a cherished Indian festival, is a celebration of the bond between siblings. Rooted in tradition and love, this festival is an auspicious Hindu festival that is celebrated as a mark of strong bonding between brother and sister. Sisters on this day tie a raksha sutra on their brother's wrist and wish for everlasting love and care between them. As we commemorate this joyous occasion, it's the perfect time to not only strengthen the bond with your sibling but also to indulge in delicious yet healthy treats.
The Significance of Raksha Bandhan
Raksha Bandhan, often referred to as "Rakhi," is a Hindu festival celebrated on the full moon day of the Hindu month of Shravana. This year Raksha Bandhan is going to be celebrated on 30th August, 2023.
This festival is celebrated annually on the last day of Sawan month. literally the word 'Bandhan' signifies bond and the word 'Raksha' signifies care and protection. Thus, this festival glorifies the practice of universal brotherhood and the lesson that every powerful person must protect the weaker ones.
Mythologically, Indrani, sister of lord Indra, secured a chanted sacred thread on the wrist of her brother so that he may be protected in the fight against demons. Due to the power of that chanted thread, Lord Indra won the battle against the demons and was able to secure his kingdom. On this festive occasion, let us share a full-fledged menu so that every sister can tie a bond entrusting health for her brother.
The term "Raksha Bandhan" translates to "the bond of protection." On this day, sisters tie a sacred thread (rakhi) around their brothers' wrists as a symbol of love, protection, and the promise to stand by each other through thick and thin. In return, brothers offer gifts and vow to protect and support their sisters.
5 Healthy Raksha Bandhan Recipes
While Raksha Bandhan is traditionally associated with indulgent sweets and treats, there's a wonderful opportunity to create a healthier celebration with low-sugar sweets recipes without compromising on flavor. Let's dive into some delightful and nutritious Raksha Bandhan mithai recipes that are sugar-free and will not only tantalize your taste buds but also promote your well-being.
1. Phirni
Phirni is a popular traditional low-budget Raksha Bandhan mithai in South Asian cuisine, particularly in India and Pakistan. It is a creamy pie pudding made with ground rice, milk, and sugar and flavored with cardamom and saffron. Phirni has a rich and smooth texture and is often served chilled in small earthenware pots called "matkas".
Preparation time – 10 min
Cooking time – 20 minutes
Servings – 2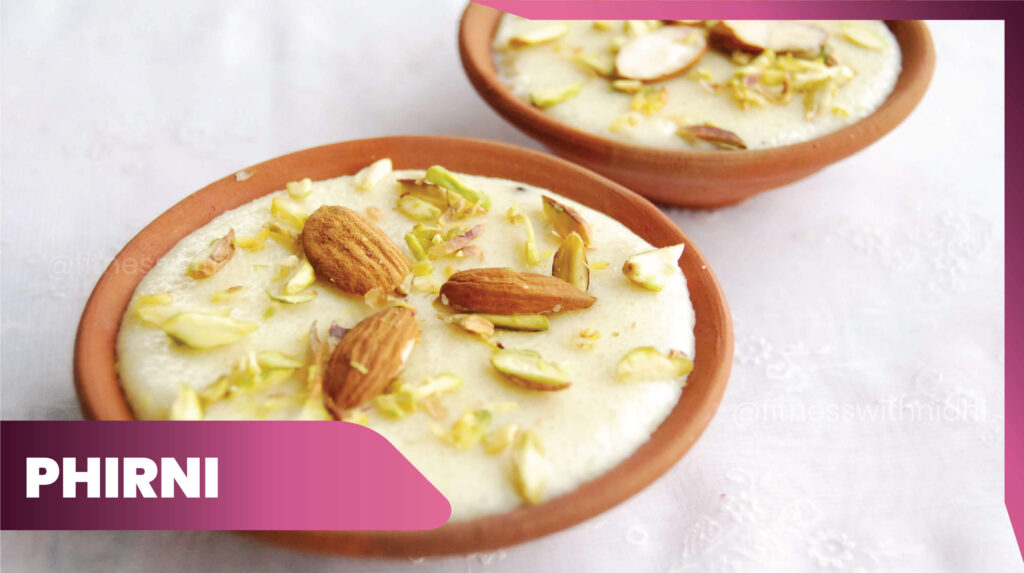 Ingredients
Rice – 1 cup
Low-fat milk – ½ litre
Condensed milk – 2 tbsp
Cardamom powder – 1 tsp
Almonds, pistachios – for garnishing
How to prepare Healthy rakhi Sweets Recipe phirni
In a bowl take washed rice and soak them for 3-4 hours and then grind it to make a smooth paste so that no particle is left.
In a heavy base pan, take the milk and add the rice paste.
Cook it with stirring till the milk remains half of the quantity.
Also add cardamom powder and turn off the flame.
Now add rose water/rose essence to it and let it cool down to room temperature.
Now fill this phirni in small earthen katoris or matka and garnish with sliced almonds and pistachios.
Cover with an aluminum foil and refrigerate it for 4-5 hours.
Serve when chilled.
2. Nutty Energy Bites
Nutty energy bites are nutritious and convenient sweet snacks that are often made with a combination of nuts, seeds, dried fruits, and other wholesome ingredients. They are designed to provide a quick boost of energy and can be enjoyed as a snack between meals or before and after workouts.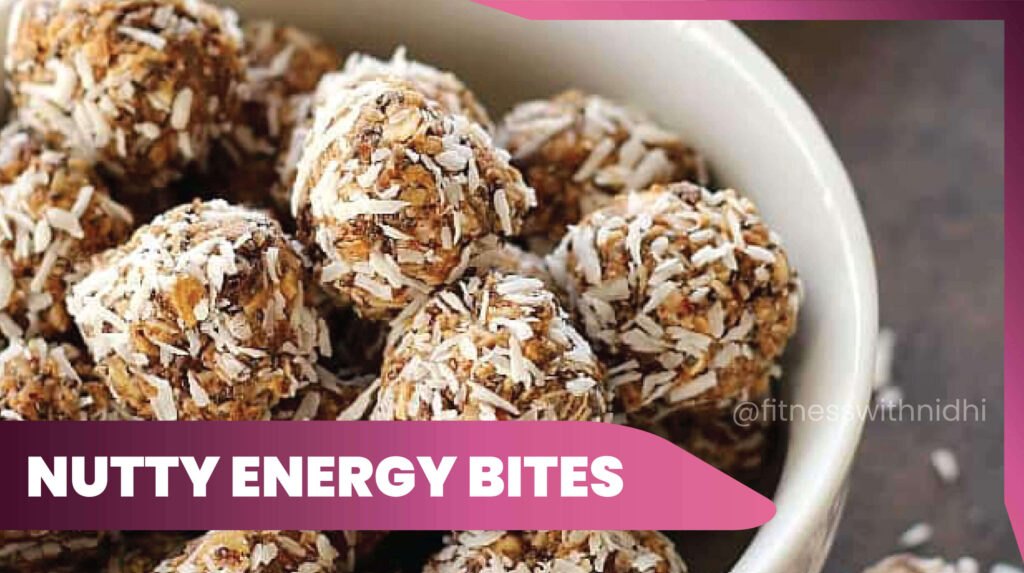 Ingredients
Rolled oats
Almond butter or peanut butter
Honey or dates (for sweetness)
Chopped nuts (almonds, walnuts, or cashews)
Dark chocolate chips (optional)
How to prepare Nutty Energy Bites
In a mixing bowl, combine rolled oats and chopped nuts.
Add almond butter or peanut butter and sweetener (honey or dates).
Mix well until the mixture sticks together.
Roll into bite-sized balls and place on a tray.
If desired, melt the dark chocolate and drizzle over the bites for a touch of indulgence.
3. Nariyal Barfi
Nariyal barfi, also known as coconut barfi, is a delicious Indian sweet made with grated coconut, and stevia and often flavored with cardamom. It's a popular Raksha Bandhan sweet.
Preparation time – 10 minutes
Cooking time – 20 minutes
Servings – 8 pieces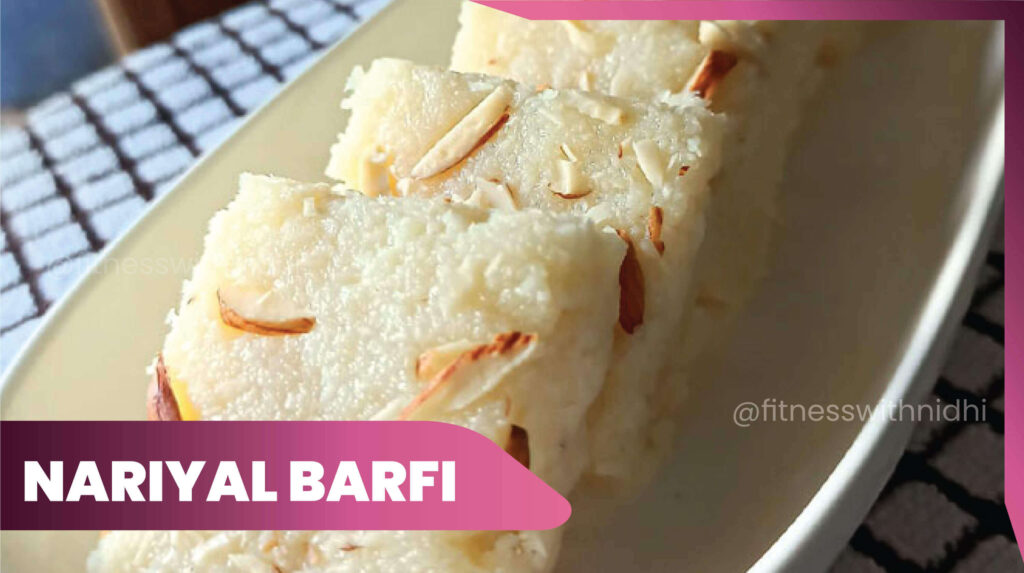 Ingredients
Freshly grated coconut – 1 cup
Stevia – 2 tbsp
Skimmed milk powder – 50 g
Cardamom powder – 1 tsp
How to prepare Nariyal Barfi
In a bowl take grated coconut and add skimmed milk powder, stevia, and cardamom powder.
Mix well and make a sheet out of it of 1-inch height.
Refrigerate it.
Once set, cut diamond-shaped pieces and serve.
4. Sabut Moong Dal Halwa
Sabut Moong Dal Halwa is a traditional Indian Raksha Bandhan sweet recipe made from whole green gram lentils (moong dal), ghee, and stevia and flavored with cardamom and saffron.
Preparation time – 10 minutes
Cooking time – 30 minutes
Servings – 5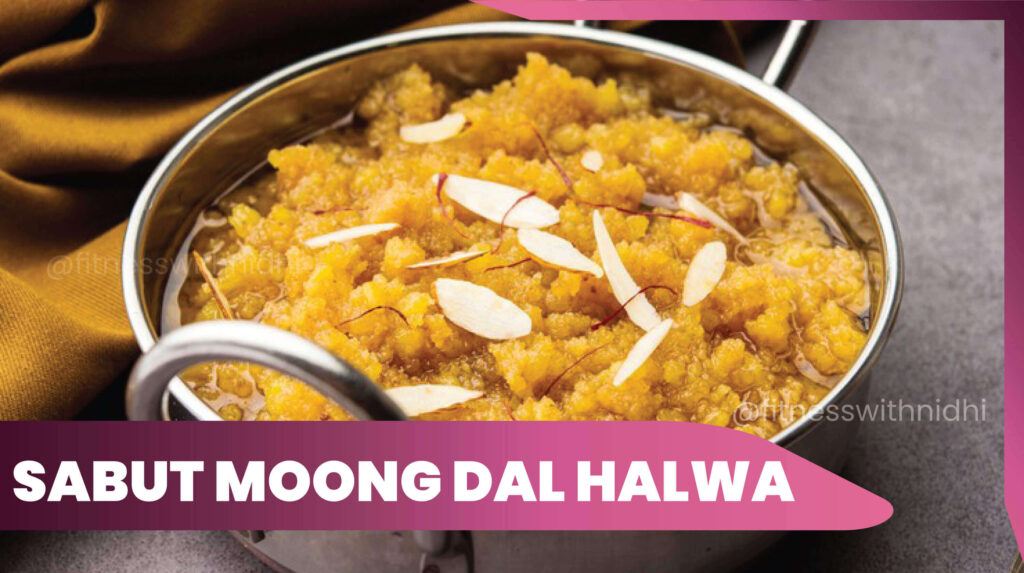 Ingredients
Ghee – 3 tablespoons heaped ghee
Sabut moong dal sprouts – 2 cups/250 g
Roasted sesame seeds – ½ tsp
Cardamom powder – ½ tsp
Almonds soaked and peeled – 7-10 pc.
Pistachios – 5-6 pc
Jaggery syrup – 100 g jaggery + 100 ml water
How to prepare Sabut Moong Dal Halwa
In a wok take ghee and once hot, add crushed sprouted sabut moong dal and sauté it.
As soon as the dal starts turning golden brown and leaves ghee on the sides, add the jaggery syrup.
To make jaggery syrup, in a pan take water and then add jaggery to it.
Once jaggery melts, let it boil by continuously stirring the mixture for 10 minutes.
Add this syrup to the preparation in the wok.
Mix it well and as soon as the water evaporates and the dal turns golden brown, turn off the flame.
Garnish it with chopped almonds and pistachios.
5. Besan Ke Ladoo
Besan ke ladoo is a popular Indian Raksha Bandhan mithai made from roasted chickpea flour (besan), stevia, ghee and various nuts.
Preparation time – 10 minutes
Cooking time – 20 minutes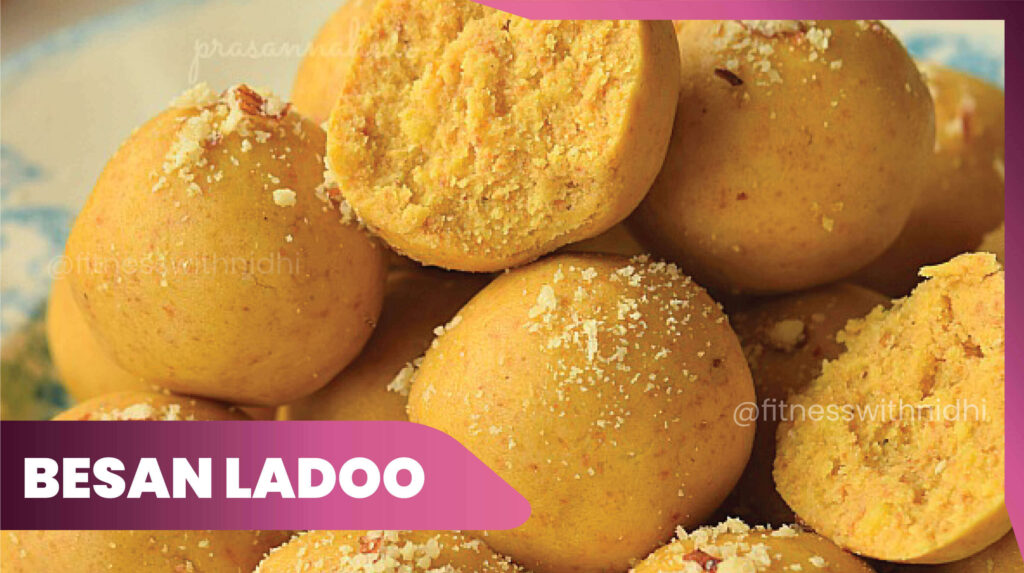 Ingredients
Besan – 200 g
Ghee – 2 tbsp
Cardamom powder – 1 tsp
Stevia/ any other sweetener of your choice – 30 g
Almonds, cashews, pistachios – ¼th cup for garnishing
How to make Besan ka Ladoo
In a wok, take ghee.
One hot, add besan to it and cook it with continuous stirring so that it does not get burnt.
Add stevia to it crushed cardamom powder and grated coconut.
Once it turns golden brown, turn off the flame.
Add chopped almonds, cashews, and pistachios.
Let it cool down at room temperature and then make ladoos out of it.
Conclusion
Raksha Bandhan is the festival of the purest feeling of love and affection between brothers and sisters. So, do try these desserts and fill this Raksha Bandhan with a pure feeling of devotion for your siblings. Gift them these low-sweet mithai and secure the tread of health and fitness for your loved ones.
Get in touch with us for a complete body transformation our weight loss programs.