Makhana, commonly known as fox nuts, phool makhana or lotus seeds, has been gaining popularity as a healthy snack option. It comes from the lotus plant covered with black shell which is removed by roasting it in large iron utensils. Then the edible white part is exported. Makhana is a healthy ingredient in Indian cuisines especially in sweets and desserts. Not only is it low in calories and fat, but it is also packed with various nutrients that offer numerous health benefits.
In this blog, we will explore whether makhana is good for weight loss and how it can help you achieve your weight loss goals.
What is Makhana?
Makhana is the seed of the lotus plant, which is native to Asia and Australia. These seeds have been used in traditional medicine for centuries due to their various health benefits. They are also used in Indian cuisine, where they are roasted or fried and added to various dishes.
Nutritional Value of Makhana
| Nutritive | Value(in 1 cup of Plain Roasted Makhana) |
| --- | --- |
| Calories | 150 kcals |
| Carbohydrates | 30 g |
| Protein | 5 g |
| Fat | Low in fat, 0.5 g per cup |
| Fibre | 3 g |
| Vitamins and minerals | Good source of magnesium, potassium, phosphorus, and calcium. |
Why is Makhana good for weight loss?
There are many benefits of consuming Makhana for weight loss.
Low in sodium: It has low sodium levels which makes it good for hypertensive patients and reduces the risk of heart disease.
Rich source of protein: Protein is essential for building and repairing tissues in the body which can help you feel fuller for long. That means you are less likely to snack on unhealthy foods.
Low in fat: it has low fat and calories content which make a suitable snack option for weight loss and weight management. It is an excellent alternative to chips and fried food, which can be detrimental to your weight loss goals.
High in fibre: It is high in fibre which helps in healthy digestion and prevents constipation. A high-fiber diet has been linked to weight loss and can also help lower your risk of various diseases like diabetes and heart disease.
Reduces inflammation: It contains kaempferol and some flavonoid so it has anti-inflammatory properties that can help reduce inflammation in the body.
Rich in antioxidants: Makhana is rich in antioxidants, which can protect against the effect of free radicals.
Rich in calcium: It is good for bone and teeth health as it is a good source of calcium and other minerals.
Good for diabetes: Makhana is good for diabetic patients as it regulates blood sugar levels because it has low glycemic index (doesn't cause a rapid spike in blood sugar levels). This makes it a good option for diabetic people.
Gluten free: Makhana is a good snack for people with celiac disease as it is gluten free.
Low in calories: It is low in calories and hence a great snacking option for weight watchers.
Easy Healthy Makhana Recipes from Fitness with Nidhi's Kitchen
Makhana, also called fox nuts or phool makhana, is an excellent snacking option and so many recipes can be made with makhana as an ingredient. The good part is that these recipes can be a part of your weight loss meal plan. Let me share with you 5 of the best and highly liked recipes by my clients from my kitchen.
Makhana Ki Kheer: Makhana kheer is an Indian dessert for all those who have a sweet tooth and crave for something "meetha" on their weight loss journey. Made with roasted makhana, milk and jaggery (healthier alternative to refined sugar), it's healthy and tasty.
Makhana Paneer Sabzi: You just have to try this recipe once and I am sure it will instantly become your favourite and who doesn't like paneer? I just love it. You can enjoy this sabzi with rice for lunch.
Gur Makhana: Just for snacking especially on those Saturday nights when you opt for unhealthy food and watch your favourite movie. Your kids will love this too.
Makhana Paneer chaat: For those who crave for khatta, meetha and fried aloo chaat with imli pudina ki chutney, this one is exactly the option you are looking for. Trust me, I am also that khatta and meetha chaat lover.
Makhana Ladoo: Who says you can't have ladoo on your weight loss journey. Here is a quick, tastier and healthier version of ladoo with main ingredient makhana.
How to roast makhana?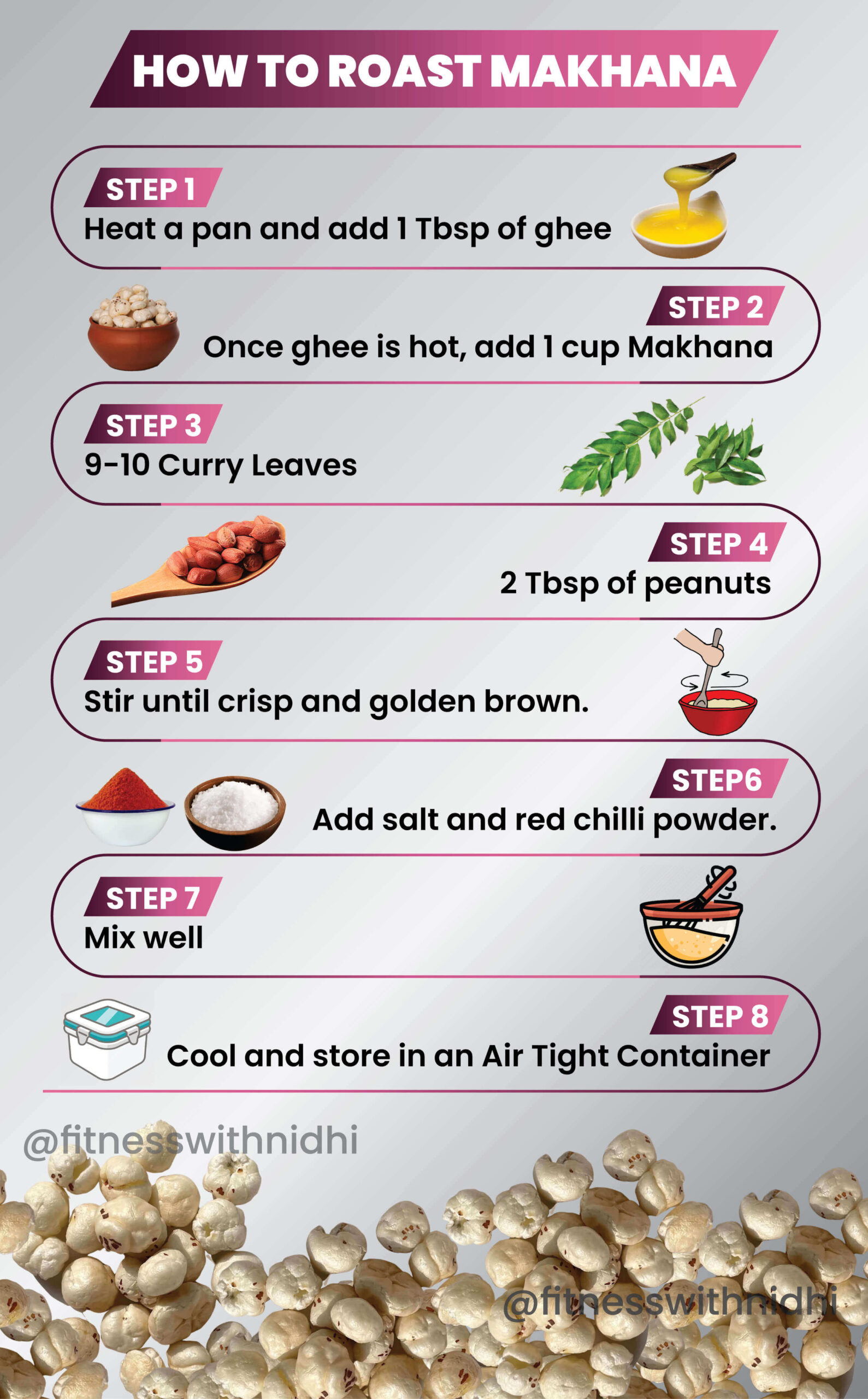 Take Away Message
Makhana is an excellent food choice for those who are trying to lose weight. It is low in calories, high in protein, and fibre, making it a healthy and filling snack option. Additionally, it is low in fat, which can help you reduce your overall fat intake. So, if you're looking for a healthy and tasty snack option to help you reach your weight loss goals, give makhana a try.
Frequently Asked Questions
How many makhanas can we eat in a day?
Is Makhana made from Maida?
No, it is seed of lotus plant
Will consuming Makhana lead to weight gain?
As it is low in calories and fat so it is considered a healthy snacking option for weight watchers also very important to consider how it is prepared and amount of consumption. If it is cooked in a lot of oil or butter or paired with high calorie toppings it can increase its calorie content which leads to weight gain.
Can Makhana be eaten during fasting?
What is the best time to eat Makhana?
You can have it as an evening snack, use it as a crunchy partner in your salads and you can cover your night cravings but make sure the amount of consumption and preparation matters.
Comparison between makhana and popcorn
Both are low in fat but makhana has low glycemic index, high source of fibre and good source of calcium which make it good for diabetic patients, for good digestion and for good bone health.